Introduction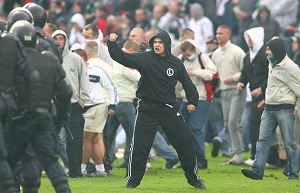 Welcome to the site that aims to assist Students, Academics and anyone interested in football related issues. This site is designed as a free site to help people in their research or interest. Please look at links and explore the site thoroughly.
Football related antisocial behaviour (hooliganism) has been a subject of much discussion by academics and the media alike over the past several decades. Current and previous research undertaken by myself has revealed some interesting insights into the current myths that have been created regarding the so called GB 'football hooligan' and the reality of such a title.
This site aims to be interactive as a vessel for discussion and education on the subject. It is unique and has been the basis for many inteviews both on TV and Radio. We work closely with other individuals and groups to look into and develop the theoretical stance on issues within football.
Although the site focusses essentially on football related disorder, it is the desire that this site becomes a useful academic research tool for all issues related to sports, including issues of race, gender differences, media, glamorisation and politics amongst others. Without Prejudice and for the good of the game
Current Research
With offensive chanting making the news recently, has this replaced the organised violence that has traditionally been associated with hooliganism? Although recently highlighted, this is nothing new, and has been going on at various grounds for some time. The government's football violence act includes specific reference to indecent chanting as one element of hooliganism. Do you feel that hooliganism has simply moved on to manifest itself in other ways? Or is chanting not as bad as violence, can it be considered as hooliganism at all? We are interested to hear your opinions, so please take a minute to vote in our survey.
We are conducting a separate study into the effects of betting and gambling on football. A hypothesis was put forward that there may be a direct link between individuals losing money betting on football, and anti social behaviour thereafter. With the recent surge in corporate sponsorship of football as well as frequent TV ads during live football matches by online bookmakers, could this have a direct or indirect link to increased levels of hooliganism? We aim to publish these findings by the end of the year.
Credits
Chanting research project is headed by Andrew Fisher, using publicly available data (plus survey data collected from this website). Sports betting data is being provided by Jane Jones at LatestBettingOffers.com. And of course, much of the original archived and historical content on this website was written and researched by Robin Manser.
Future Research
We are curently shortlisting potential areas of future research. We need your help! If you have any ideas or suggestions, or would like to contribute any research of your own, please contact us.